Prevent tampering and fraud by digitally sealing your PDF documents!
PDF document fraud
Tampering with a PDF file that you send out is extremely easy and happens a lot more than you think! In a recent project, a financial services company checked 1.000 salary statements from a large HR-temp agency and found that 135 out of the 1.000 were tampered with!
When faced with fraud you have to be able to prove that you sent the original version and that your copy really is the original!
PDF Sign and Seal API Service

Sphereon offers an easy to use REST API to add a timestamp and electronic signature to the original PDF so you can always prove that this was the original file and has not been modified since its creation.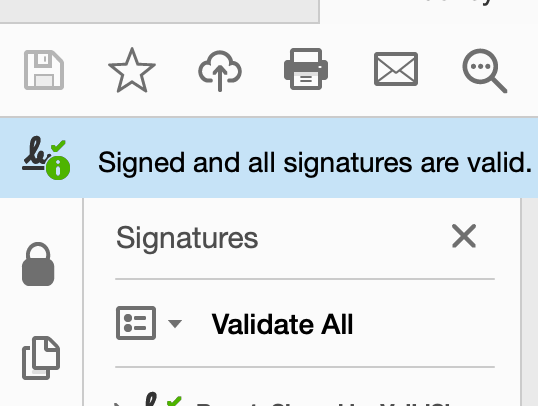 Any stakeholder outside of your organisation — like the financial services company we mentioned — can easily verify the authenticity of the PDF.
As soon as someone opens the PDF, they immediately see a blue bar with the electronic signature.
Easy to integrate and deploy
It is very easy to integrate and deploy the PDF Sign and Seal API. Sphereon offers extensive online support , such as online documentation, SDKs for multiple development frameworks, code samples, a Swagger/OpenAPI console, a sandbox for testing and support by our software engineers.
Developers can easily automate the signing- and verification function into workflow- and case-management or other business-IT systems.
100% Legal and internationally recognized
Sphereon guarantees that the electronic signature is a legal signature. The PDF Sign and Seal API uses an official Adobe-supported certificate-based signature issued by a Certificate Authority (CA) on the official Adobe Approved Trust List (AATL).
Pricing starting from as low as € 3.000,00 per year.