Sharing Private Data
Explained
How to share and use private data
The problem: Scientists, researchers, policy makers, businesses, need data to make informed decisions, create new business models, or the next scientific breakthrough. But many of the data sources are not available to them because they contain confidential data.
How can they get access to private or confidential data?
They also need algorithms to perform the analysis, but most users are not data scientists or AI-developers.
How can they access and use algorithms for analysis?
Gaia-X offers a federated and secure data infrastructure, whereby data is shared, but the data owners retain full control over their data access and usage. 
Using the Gaia-X architecture, compliance rules, and open software implementation, we help build Data Marketplaces for securely sharing confidential and private data.
A Gaia-X Data Marketplace is a platform that enables data owners to publish data sources and share them securely with others.
They enable researchers to perform analysis on confidential and secured data. Confidential data that is very important for researchers and policymakers, but is now kept private and is difficult to share due to privacy regulations, such as the GDPR rules or human rights.
The Future Mobility Data Marketplace is an online marketplace where the demand for mobility data and service-offerings of datasets and algorithms are brought together.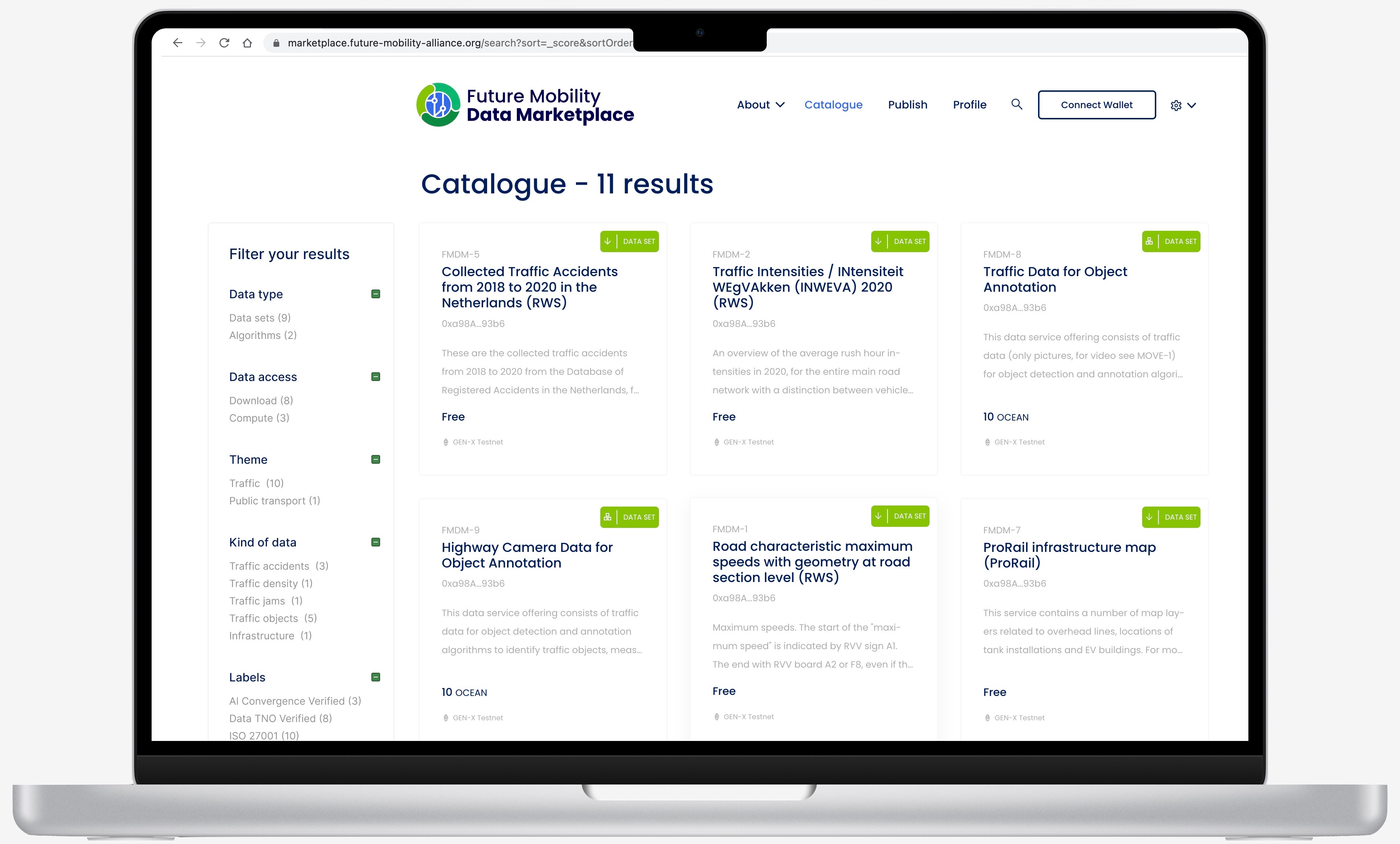 The Future Mobility Data Marketplace offers a catalog in which these various services-offerings — datasets and algorithms — are listed.
A user can browse, search and filter the service catalog on specific metadata, called labels.
Data providers can attach these labels to their service-offerings to make them easier to find. They can make these labels themselves, but also add verifiable labels that they have received from another party, for example an ISO certification, and a user can independently verify.
Compliance rules are enforced using Smart Contract that register data usage agreements and store an audit trail on an immutable blockchain.
Gaia-X offers Compute-to-Data, a form of Secure Multi-Party Computing in which users are given permission to use the data using a specific pre-approved algorithm, which is then executed in the secure environment of the data provider.
The Compute-to-Data makes the use of confidential and private data safe: by simply not sharing the data at all.
It basically brings the algorithm to the data and not the data to the user: the data remains with the data owner and under its full control. Only algorithms that are pre-approved by the data owner are executed.
It is a form of Secure Multi-party Computing in which certain algorithms are only given permission to use the data. The pre-approved algorithm is executed in the secure data environment of the owner. Only the results are shared with the users. They never get to see the data itself.
The whole process is enabled via Smart Contracts that execute and register a data usage agreement between the parties. All the transactions are stored in a privacy-preserving manner on an immutable blockchain.
Gaia-X is organized around vertical domain-oriented ecosystems, called Data Spaces, like Mobility, Health, Energy, Manufacturing, Logistics, etc., to share knowledge, collaborate, and identify open standards related to those specific domains.
Clinical Trial Data Space
Together with Triall.io and the Dutch Blockchain Coalition we are designing a Data Marketplace for participants to share Clinical Research Data to discover new insights to develop novel medicines and therapies, to treat — or even prevent — diseases, identifying at-risk patients, shortening stays, and improving care delivery, all to improve patient outcomes.
Energy Data Space
Together with founding members TU Delft and Erasmus University, Sphereon and the Dutch Blockchain Coalition are building a Data Marketplace for participants to share and use data around energy consumption to discover new insights that can help to develop new solutions from energy transition to the nitrogen crisis .