Special Investigator Identity Solution
Sphereon and partners win Ministry of Justice and Security challenge
We're very pleased to announce that we — together with our partners Novatore and Plamo — won a contract based on a challenge that was posted by the Dutch Ministry of Justice and Security. 
We were awarded a contract to build a solution for their Justis department to enable Special Investigators (BOAs) to identify themselves in a privacy-preserving manner and to enable the public to easily verify the authenticity of their identity and the authorization to perform their tasks.  
Challenge: Digital Identity for Special Investigating Officers
How might we use digital identification tools for special investigating officers so that they can secure their privacy and perform their duty more safely, efficiently and flexibly?
Currently, special investigating officers only have a physical ID card that they can show to verify their authority.
This, however, is problematic: a physical ID is more sensitive to fraud as it can be used after the expiration period, others can use it when it is stolen, or otherwise fraudulently acquired.
Furthermore, the physical ID has all the officer's identity data, which has led to stalking and other unwanted behavior from third parties.
The goal is to digitize the identities of special investigating officers and make the identity verification process secure, private and easy to use.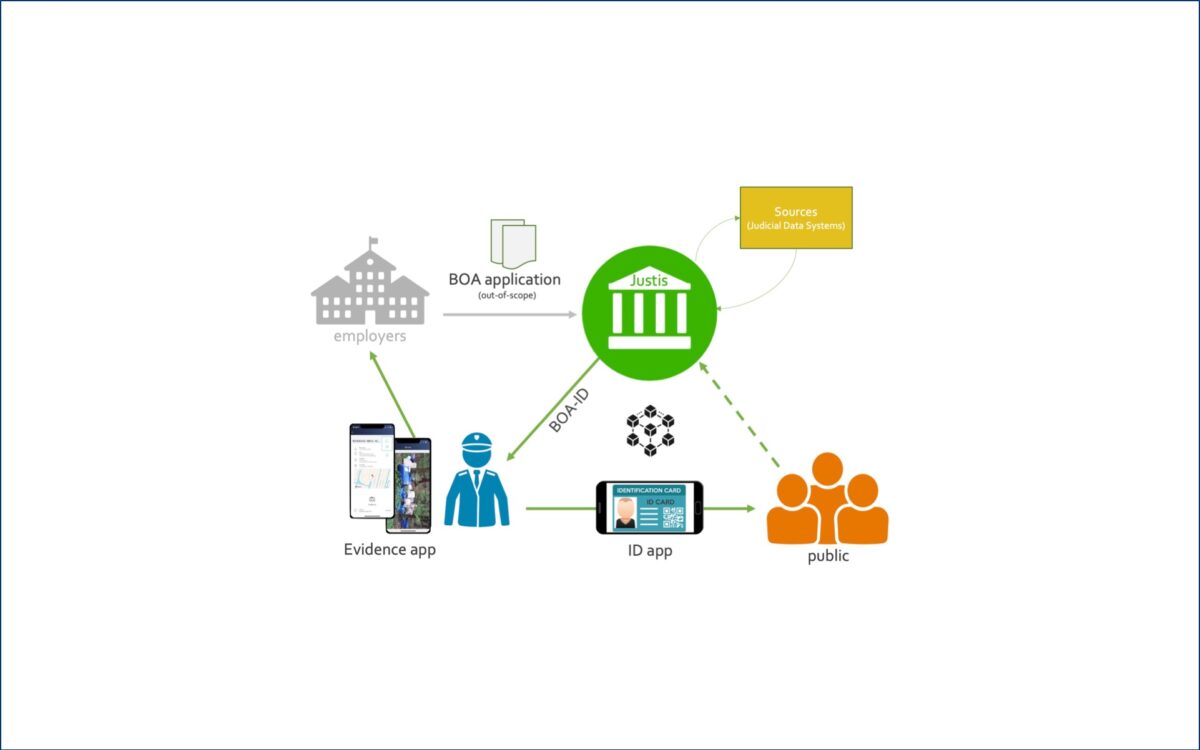 About BOAs
A BOA is a public official with specific investigative powers. This means that they may investigate whether specific offenses have been committed.
BOAs can be employed by certain organizations and by the police to maintain order and safety. For example, there are BOAs that enforce parking policies for municipalities, game wardens, environmental inspectors and compulsory education officers.
There are about 25,000 BOAs in The Netherlands.
BOAs are allowed to verify someone's identity, draw up official reports, issue fines, arrest suspects, and — under special and regulated circumstances — use force, using batons, pepper spray or even firearms.
A police officer has general investigative powers and is allowed to track down all criminal offenses. A BOA has limited powers of investigation that depend on the domain and specific, defined tasks, for which they are trained.
There are 6 domains in which BOAs can work. Each domain has its own training requirements and powers.
Public Space: tackling nuisance and minor annoyances that affect the quality of life in public space.
Environment, welfare and infrastructure: nature and environment, labor inspection, food & goods controls, animal welfare, public health, physical living environment (such as buildings, parks, clean air, rivers, forests) and infrastructure.
Education: enforcement of compulsory education law and other related legislation and regulations.
Public transport: detecting criminal offenses within the domain of public transport.
Work, Income and Care: criminal enforcement in the areas of work, income, taxes and social affairs.
Generic Investigation: residual category boas with usually general investigative powers
Officially, BOAs have all the various powers as specified for them in the specific domain, but their employer determines which BOA is authorized to use them.
Cooperation is key
As we say so often, cooperation was key in winning this contract. We are convinced that without the knowledge and experience of our partners, such as  Novatore and Plamo, Sphereon would not be as successful as we are today.
Specialists in the field of information logistics with more than 25 years of experience and well versed in government in general and in the judiciary domain in particular.
Plamo are experienced software developers and offer a Mobile App Platform for developers, with powerful and a scalable backend in minutes.