You can use Blockchain with SharePoint to build a layer of Trust into your processes and for the files that you share with others.
Certify and authenticate all your content

Create independently verifiable audit trails

Send files for Approval and Digital Singing

Interact with Smart Contract
SharePoint Blockchain Add-in
We've created a standard SharePoint Add-in that you can easily integrate with your SharePoint installations.
The Sphereon Add-in fits into SharePoint as workflow actions in O365 Flow or as UI commands in O365 SharePoint and extend the standard SharePoint ribbons and menus for Lists and Documents.
We created an installation guide, but do not hesitate to contact us for support!
Certify and authenticate all your content
Blockchain is a tool that will add indisputable Proof of Authenticity to all the content you capture, store and share and to all the transactions you process.
The Sphereon Blockchain Add-in can create a unique electronic fingerprint (hash) for any document, object or data in SharePoint and anchor this on a Blockchain.

Anyone that has access to this object – either because they have access to SharePoint or because it was send to them – can now verify its authenticity by simply recreating the hash and verify it on the Blockchain. Either through an extra menu option we've created in SharePoint or through an independent web-page.
When the object is unchanged, the hash will still be the same and is found on the Blockchain, including the timestamp of registration.
Create independently verifiable audit trails
Using the Sphereon Blockchain Add-ins and a Connector you can register any step in a workflow on a Blockchain.
Each registration is linked to a specific case, document and action, creating a chain of transactions: a tamperproof audit trail.
This audit trail can then also be verified by (authorized) third parties, providing Transparency, Compliance and – most importantly – Trust.
Send files for Approval and Signature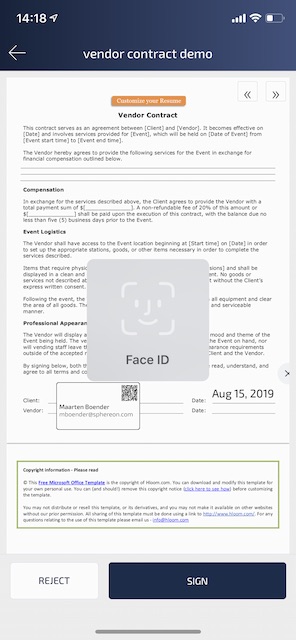 This will enable you to automatically (or ad-hoc) send any digital file, like applications, contracts, claims, valuations, certificates, test results, photos, etc. directly from Microsoft SharePoint for Approval and Signing.
Any digital object can be send to either an internal or external person, like an agent or customer for Approval and/or Confirmation of Receipt. These recipients can View, Check and Approve (or Reject) these files.
When on-boarding, a digital identity is created and stored in a secure wallet of the Trusted Storage Space of the smartphone. The signing is done using a Private Key, which is verified using either the phone's biometrics (fingerprint or face-id) or pin-code, depending on the phone's capabilities.
An immutable, tamperproof audit-trail is kept of all actions. This audit-trail can be independently verified by anyone with access to the digital file.
Work with inter-company workflows using DAML
This enables you to interact with DAML Smart Contract applications that allow you to build workflows that span across organizations.
The Sphereon Add-in can be used to provide input to required to execute a Smart Contract directly from within SharePoint.